Fire was born after we found ourselves tired of crashing using synthetic caffeine pre-workouts and energy drinks. As it turns out, not all caffeine sources are created equal. Using whole green coffee powder (WGCP), we were able to create a pre-workout that delivered clarity and focus over the long haul, not just up front. Because of its fibrous, whole-fruit nature, WGCP in Fire absorbs in a slow drip, giving you the benefits of the caffeine of two cups of coffee over six hours. It's a great match for intense intervals on the bike, at the gym, or out on the trail, and the low-calorie blend makes it an exceptional partner anytime you need cognitive clarity without the crash.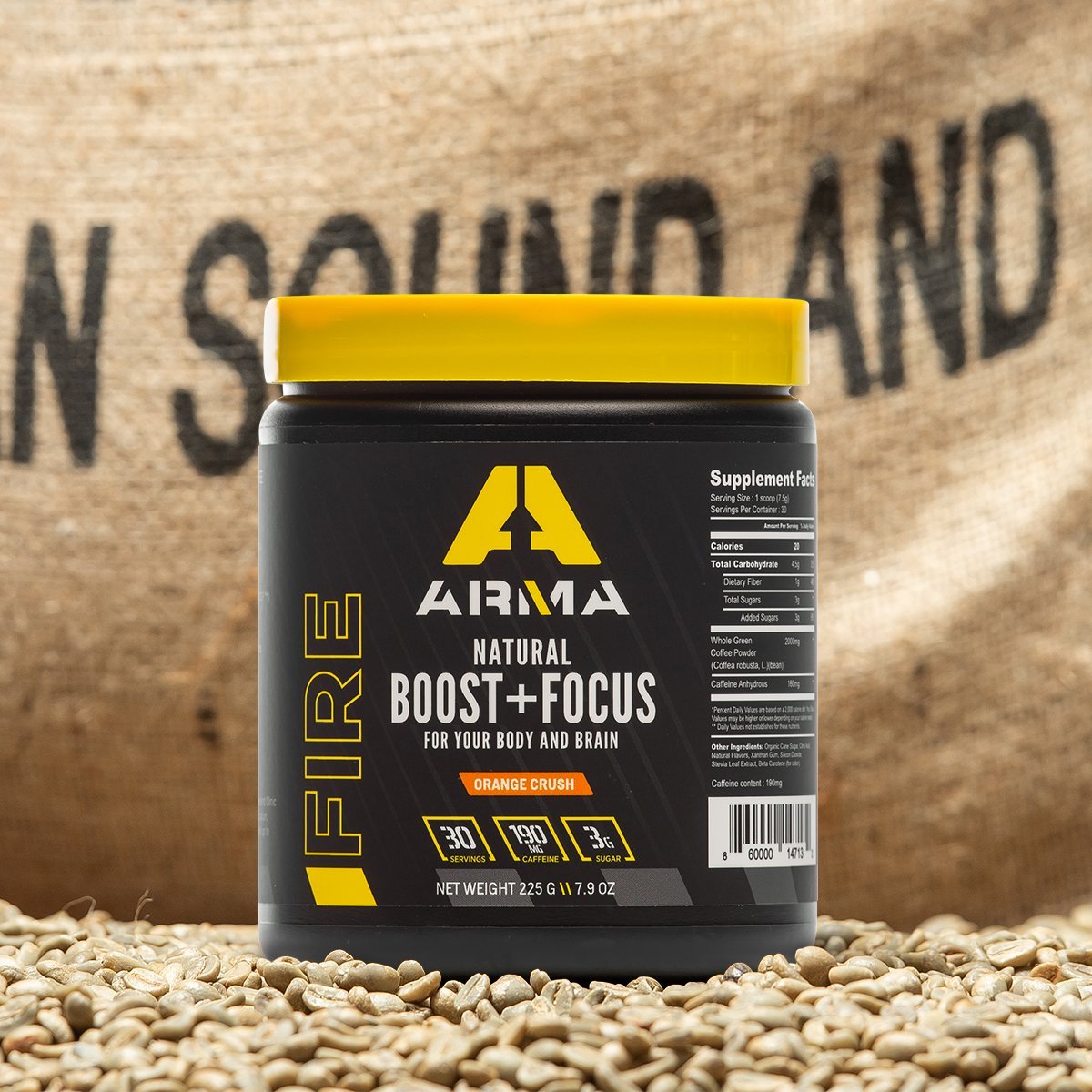 Featured FIRE Products
The Smoothest Caffeine Pre-Workout
View Product
Fire Pre-Workout Single Serve, 30-Count
VIEW PRODUCT
40% Off First Time Subscription
Elevate your energy sustainably with Fire — exclusively for our subscribers, take a blazing 40% off your first order and maintain your peak with 20% off on all future purchases. Unleash the power of slow-release caffeine for long-lasting focus and performance without the crash, whether you're powering through a workout or demanding mental tasks.
The Smoothest Caffeine Pre-Workout
Ingredients: Whole Green Coffee Powder (Coffea Robusta, L.) (bean), Natural Caffeine (from Green Tea)(Camellia Sinensis)(leaf)
Supplement Facts
| | | |
| --- | --- | --- |
| Calories | 20 | -- |
| Total Carbohydrate | 4.5g | 2% |
| Dietary Fiber | 1g | 4% |
| Total Sugars | 3g | -- |
| Added Sugars | 3g | 6% |
| WGCP™ | 2000mg | |
| Natural Caffeine | 155mg | |
The Smoothest Caffeine Pre-Workout
Fire pre-workout is designed to provide sustained energy without the crash commonly associated with synthetic caffeine found in traditional pre-workouts and energy drinks.
Utilizing whole green coffee powder (WGCP), Fire offers a unique approach to caffeine that promotes long-term clarity and focus.
The fibrous composition of WGCP allows for a gradual absorption of caffeine, simulating the extended release of the equivalent of two cups of coffee over a six-hour period.
Fire is particularly effective for supporting high-intensity interval training, whether cycling, gym workouts, or outdoor trail activities, thanks to its steady energy release.
With its low-calorie formula, Fire is not only suitable for physical activities but also serves as an excellent option for those seeking cognitive clarity throughout the day without the unwanted calories or jitters.
4.6 Stars From Our Customers!
"Works great when you plan a long day of activity. I tried it for the first time as a pre-mountainbike performance booster! Wish they had this when i raced moto. Strawberry lemonade highly Recommended. Try it for yourself"

Kelly - Thousand Oaks, CA

"Gets you goin. helps you focus. daily fuel"

"When I need to get going quick in the mornings or something to get me through the afternoon Fire is it! No jitters, no ichy pre-workout feeling"

"Fire is amazing! It gives you steady energy and helps you stay focused. Orange crush flavor tastes great, and it mixes well with Hydr8. I'm really impressed with this product! Thank you guys!"

"Fire does just that. Steady energy and improves your focus. Orange crush tastes great and even mixes great with Hydr8. Very impressed with this product!"

"Out of the gate this stuff made a significant difference in my performance on the bike. The natural caffeine comes on smooth and provides elevated alertness and overall "pop". I always add one scoop per bottle and it helps carry me on longer, more strenuous rides. Definitely a must buy!!!"

"When I need that pick me up I go straight to fire and a water. Need that next level feeling then Fire is your go to!"
Jason Verbacken's Dynamic Duo for Cycling
Frequently Asked Questions
What is FIRE pre-workout?
FIRE is a natural pre-workout supplement that uses whole green coffee powder (WGCP) to deliver a steady release of energy. It's designed to provide clarity and focus over six hours, mimicking the caffeine from two cups of coffee without the crash associated with synthetic caffeine sources.
How does FIRE differ from other pre-workouts?
Unlike typical pre-workouts that may use synthetic caffeine leading to a quick spike and crash in energy, FIRE's WGCP content ensures a slow and steady absorption. This means you can enjoy a sustained energy boost that's perfect for intense workouts or any activity requiring prolonged mental focus.
Is FIRE suitable for all types of workouts?
Yes, FIRE is formulated for a wide range of physical activities, including cycling, gym sessions, and outdoor trails. It's also an excellent option for anyone needing extended cognitive clarity, such as for studying or work-related tasks.
Can FIRE help me if I'm sensitive to caffeine?
FIRE's gradual caffeine release is generally more comfortable for those who are sensitive to caffeine's effects. However, it's always recommended to start with a smaller serving to assess tolerance.
How should I take FIRE for the best results?
For optimal results, consume FIRE 15-30 minutes before your workout or any activity requiring increased focus and energy. Adjust the timing based on your individual response.
Are there any crash effects after the energy wears off?
FIRE is designed to minimize the "crash" effect commonly experienced with other caffeine sources. Its slow-release formula aims to provide a smooth decline in energy levels.
Yes, FIRE is a low-calorie blend, making it a great pre-workout option for those monitoring their calorie intake.
Can I subscribe to get FIRE regularly?
Absolutely! Subscribers enjoy a special 40% discount on their first order and 20% off on subsequent purchases.